* PAKISTAN INFORMATION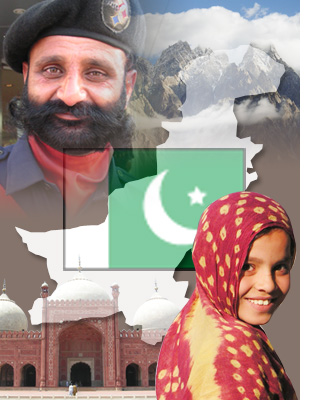 Islamic Republic of Pakistan was born on August 14, 1947 became independent of British territory India by Muslim League. "Pakistan" is a name that can be done by TAN's that is the end of A of P and North-West Frontier Province (Afghan state) in Panjarb state and kashmirian K, S of Sindh state, and Barortistarn state tying, and it has the meaning "Clean country".

Pakistan is Islamic nation where 150 million people or more per about 800,000 total area km2 live. It is located in westernmost in South Asia, and it is located east, and China (Xinjiang Uygur Autonomous Region and Tibet autonomy district) bounds to Iran, Afghanistan, and the north in India and the west, and it is almost located in the middle about Europe and Asia.

It is composed of four states and Islamabad federal capital district (ICT), federal direct control tribe region (FATA), north region (Northern Area), and Arzard Jammu kashmirian regions (AJK) in Panjarb state, Shindu state, Barotistan state, and North-West Frontier Province (NWFP), and it keeps growing up as multiracial and a nation where many languages are spoken composed of a lot of races, the languages, and the cultures.
| | |
| --- | --- |
| the name of a country | Islamic Republic of Pakistan |
| area | 7,960,000 km |
| population | about 160,000,000 |
| capital | Islamabad |
| nation | Panjabi, Shindi, Pashtun, Baroti etc... |
| religion | Islam(97%), Hindu(1.5%), Christian(1.3%) etc... |
| a form of government | Republic |
| industry | farming |
| language | Urdu, English etc... |
| currency | Pakistan Rs |
| electricity | 220V |
| international call | national No+92 |